20+Friendship Poetry in Urdu
Friendship Poetry in Urdu , the poet articulate his love for friends. Friends are one of the most important blessings in one's life, as in the presence of friends one's feel joy and one's hearts get satisfaction. A friend can also be your siblings, parents and cousins. Whenever you feel gratitude for the existence of your friends you heart wants to write a great friendship poetry to them.

Friends Poetry In Urdu
جانے کس گلی میں چھوڑ آیا ہوں
جاگتی ہوئی راتیں ہنستے ہوئے دوست
ــــــــــ***ــــــــــ
Janay kis gali my choor aya hun
Jagti hoey raatein hansty howey dost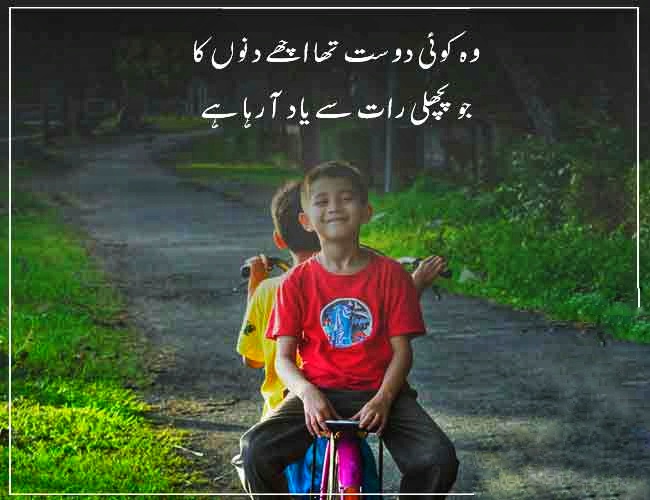 وہ کوئی دوست تھا اچھے دنوں کا
جو پچھلی رات سے یاد آ رہا ہے
ــــــــــ***ــــــــــ
Wo koi dost tha achay dinno ka
Jo pechley raat sy yad a raha hai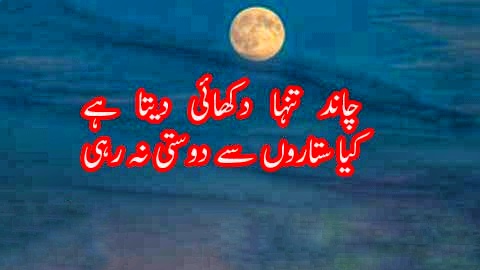 چاند تنہا دکھائی دیتا ہے
کیا ستاروں سے دوستی نہ رہی
ــــــــــ***ــــــــــ
chand tanha dikhai deta hai
kiya sitaron say dosti na rahi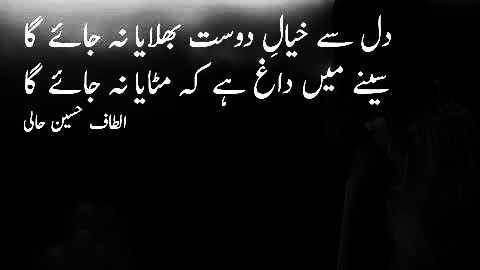 دل سے خیالِ دوست بھلایا نہ جائے گا
سینے میں داغ ہے کہ مٹایا نہ جائے گا
ــــــــــ***ــــــــــ
dil say khyal e dost bhulaya na jaye ga
senay main dagh hay kay mitaya na jaye ga
اب وہ تتلی ہے نہ وہ عمر تعاقب والی
میں نہ کہتا تھا بہت دور نہ جانا مرے دوست
ــــــــــ***ــــــــــ
Ab Who Titli Hai Na Who Umar Tuaaqab Wali,
Main Na Kehta Tha Bahot Door Na Jane Mere Dost.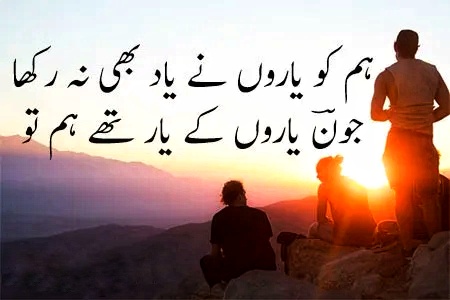 ہم کو یاروں نے یاد بھی نہ رکھا
جونؔ یاروں کے یار تھے ہم تو
ــــــــــ***ــــــــــ
Hum Ko Yaron Ne Yad Bhi Na Rakha,
Jaun Yaron Ke Yar The Hum.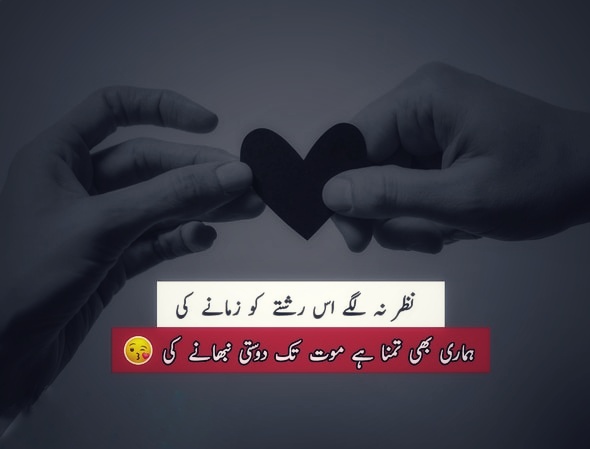 نظر نہ لگے اس رشتے کو زمانے کی
ہماری بھی تمنا ہے موت تک دوستی نبھانے کی
ــــــــــ***ــــــــــ
Nazar Na Lagay Is Rishte Ko Zamane Ki
Hamari Bhi Tamanna Hai Mout Tak Dosti Nibhane Ki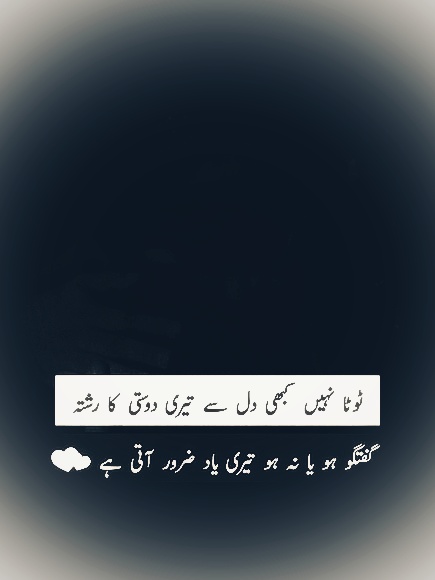 ٹوٹا نہیں کبھی دل سے تیری دوستی کا رشتہ
گفتگو ہو یا نہ ہو تیری یاد ضرور آتی ہے
ــــــــــ***ــــــــــ
Toota Nahi Kabhi Dil Se Teri Dosti Ka Rishta
Guftago Ho Ya Na Ho Teri Yaad Zaroor Aati Hai
Friendship Poetry in Urdu 2 Lines
دوستی تو عام ہے لیکن ائے دوست
دوست ملتے بھی تو نصیب سے ہیں
ــــــــــ***ــــــــــ
Dosti to aam hai lekin aaye dost
Dost miltey bhi to naseeb se hain.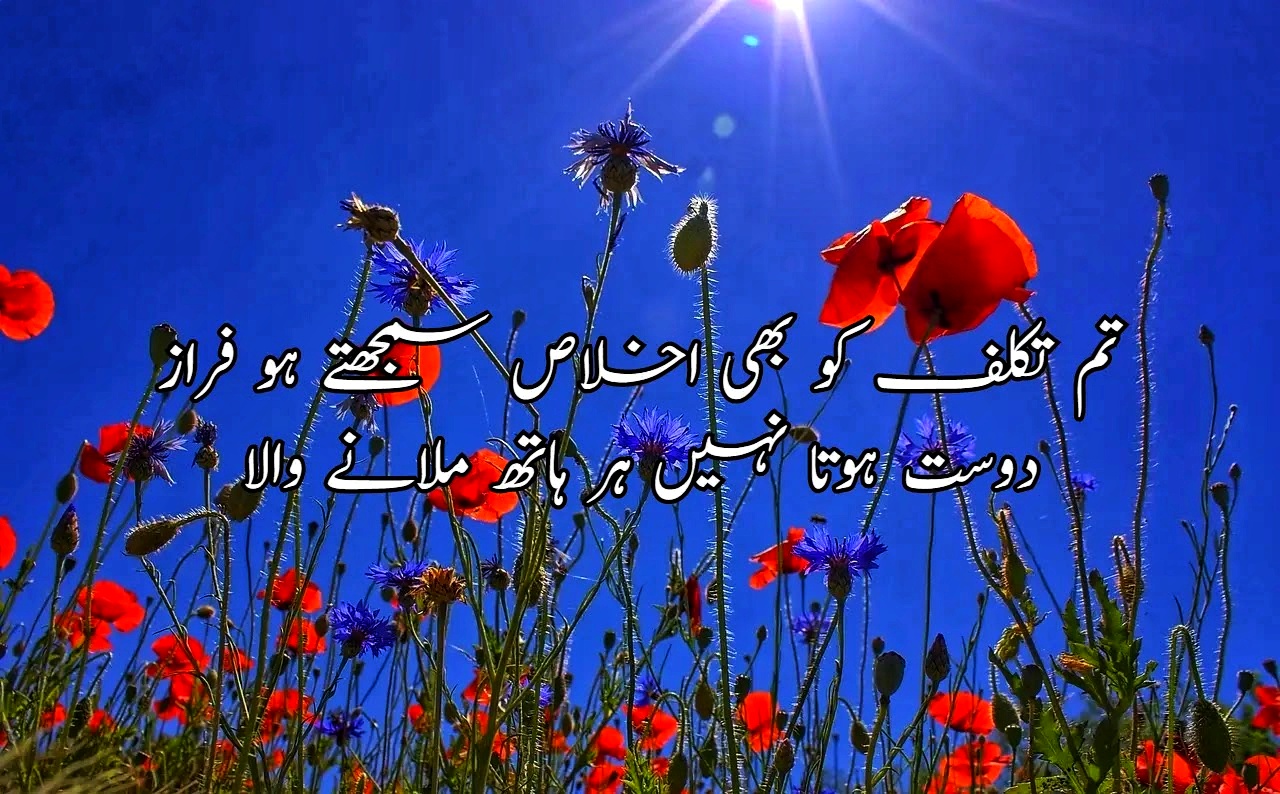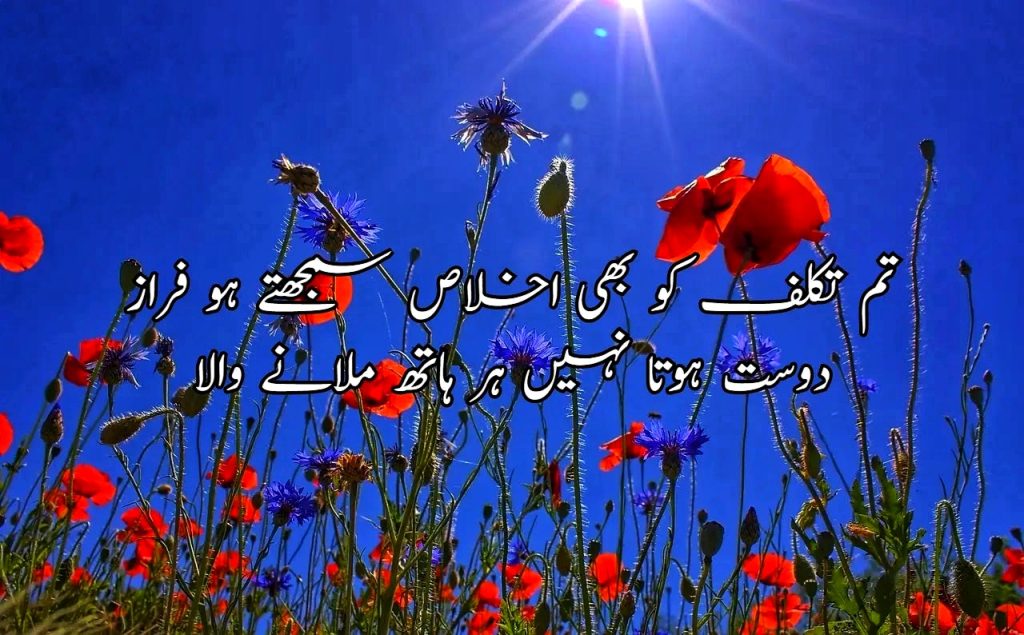 تم تکلف کو بھی اخلاص سمجھتے ہو فراز
دوست ہوتا نہیں ہر ہاتھ ملانے والا
ــــــــــ***ــــــــــ
Tum takluf ko bhi ikhlaas samjahte ho faraz
Dost hota nahi har hath milane wala.
Related Post Poetry in Urdu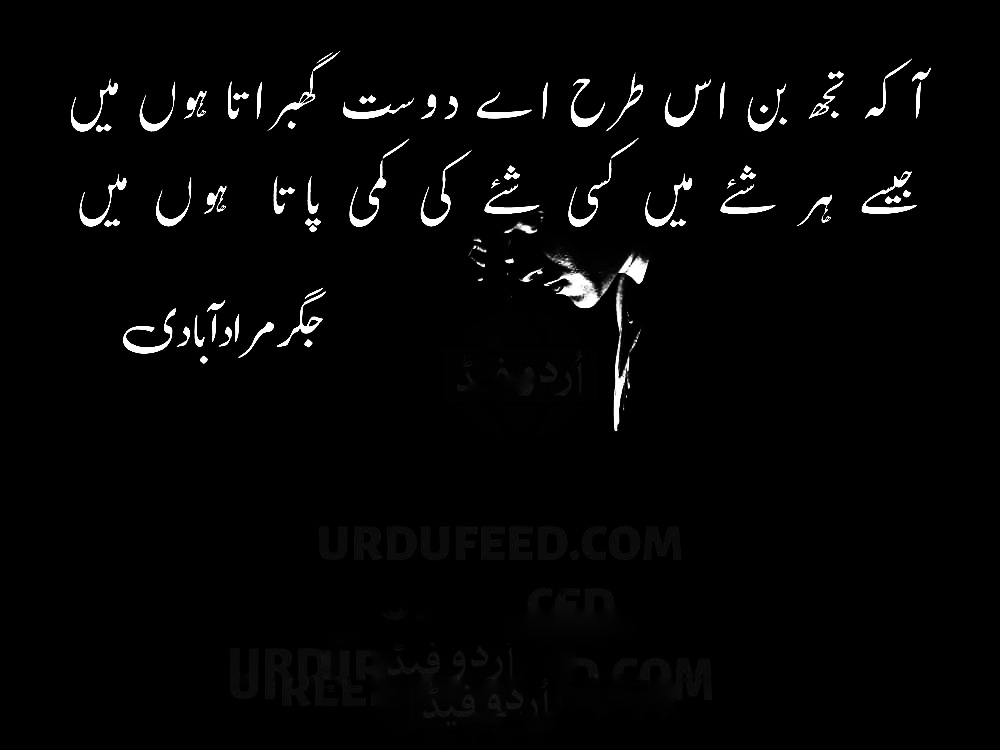 محسن برُے دنوں میں نیا دوست کون ہو؟
ہے جس کا پہلا قرض اُسی سے سوال کر
ــــــــــ***ــــــــــ
Mohsin Buray Dino Main Naya Dost Kon Ho
Hai Jiss Ka Pehla Qarz Ussi Say Sawal Kar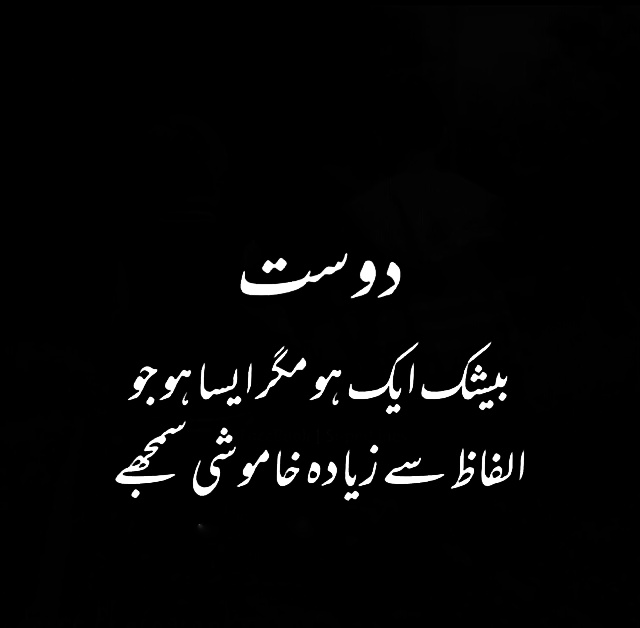 دوستی جب کسی سے کی جائے
دشمنوں کی بھی رائے لی جائے
ــــــــــ***ــــــــــ
Dosti Jab Kisi Say Ki Jaye….
Dushmanon Ki Bhi Rai Li Jaye
زندہ" رہنے کہ بہانے ڈھونڈے"
آئو "دوست" پُرانے ڈھونڈے
ــــــــــ***ــــــــــ
"Zinda" RahnY Ky BahaNy DonDy
Ao "Dost" PuraNy DonDy
سانوں فن اے سنگتاں "نباون" دا
ساڈے یار وی شاکر "نسلی" ہے
ــــــــــ***ــــــــــ
Sàno Fan Ay Xàngta "Nàbawan" Dà
Sàday Yàr V Xhàkar "Nàxli" Hài
Best Friendship Poetry in Urdu
تاب نگاہ تھی تو نظارے بھی دوست تھا
اس چشم نرگسیں کا اشارہ بھی دوست تھا
ــــــــــ***ــــــــــ
Taab nigah thi to nazara bhi dost tha
Is chisham nargis ka ishara bhi dost tha
دوست خوش ہوتے ہیں جب دوست کا غم دیکھتے ہیں
کیسی دنیا ہے الٰہی جسے ہم دیکھتے ہیں
ــــــــــ***ــــــــــ
Dost khush hotay hn jb dost ka gham daikhtay hn
Kesi dunya hai elahi jisay hm daikhtay hn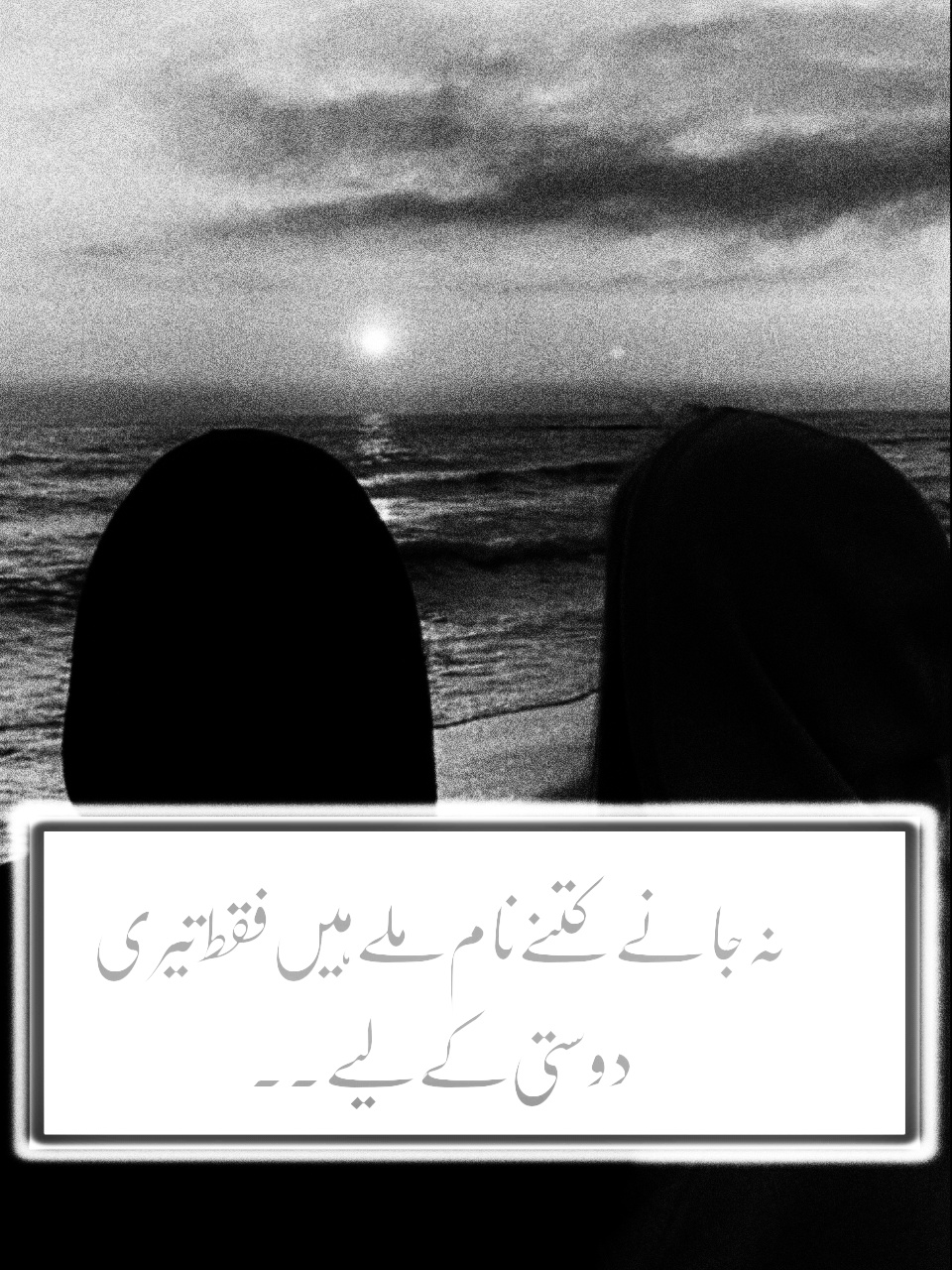 نہ جانے کتنے نام ملے ہیں فقط تیری دوستی کے لیے..
ــــــــــ***ــــــــــ
Na jany kitny nam mily hain fakat teri dosti k liye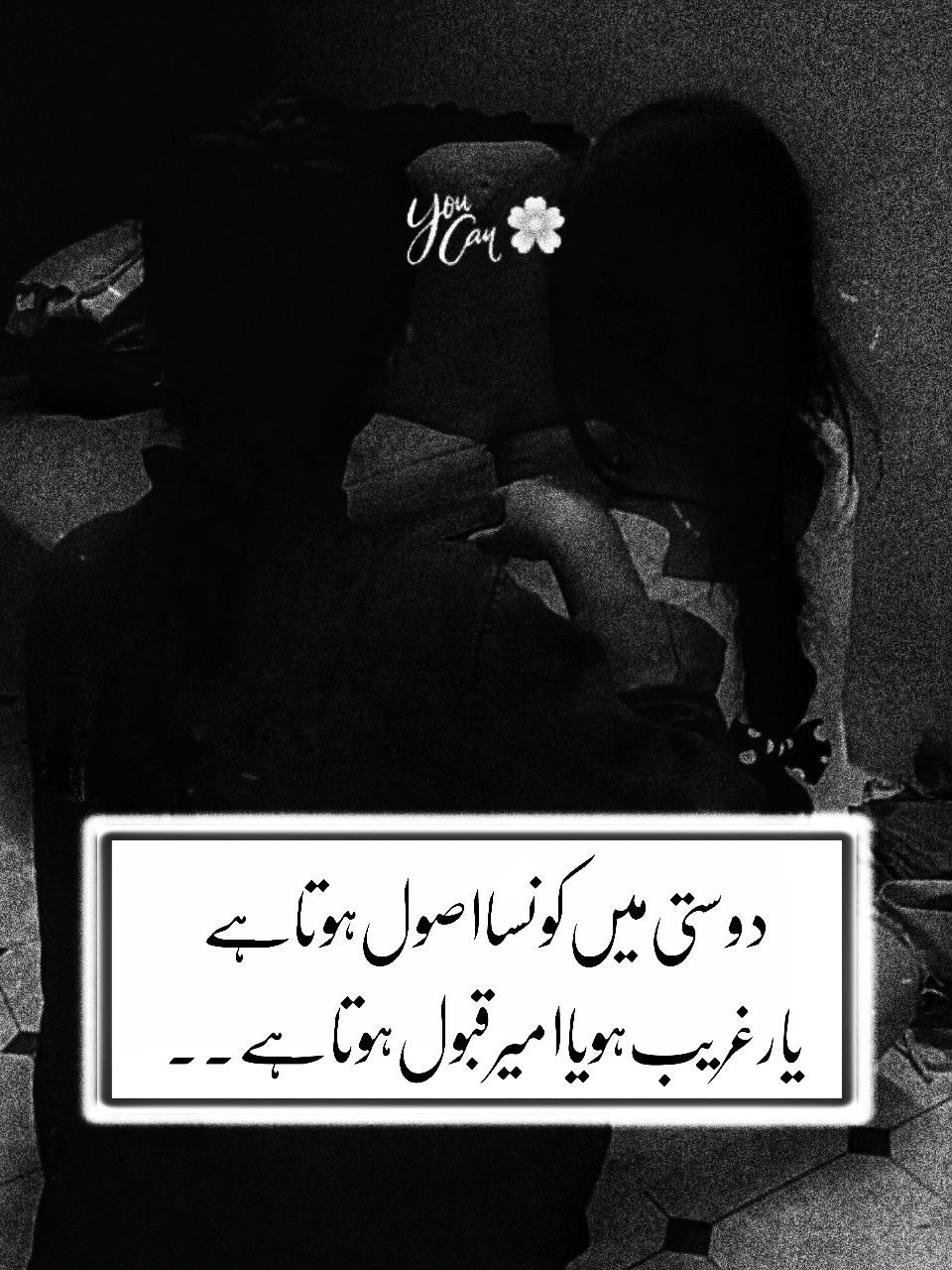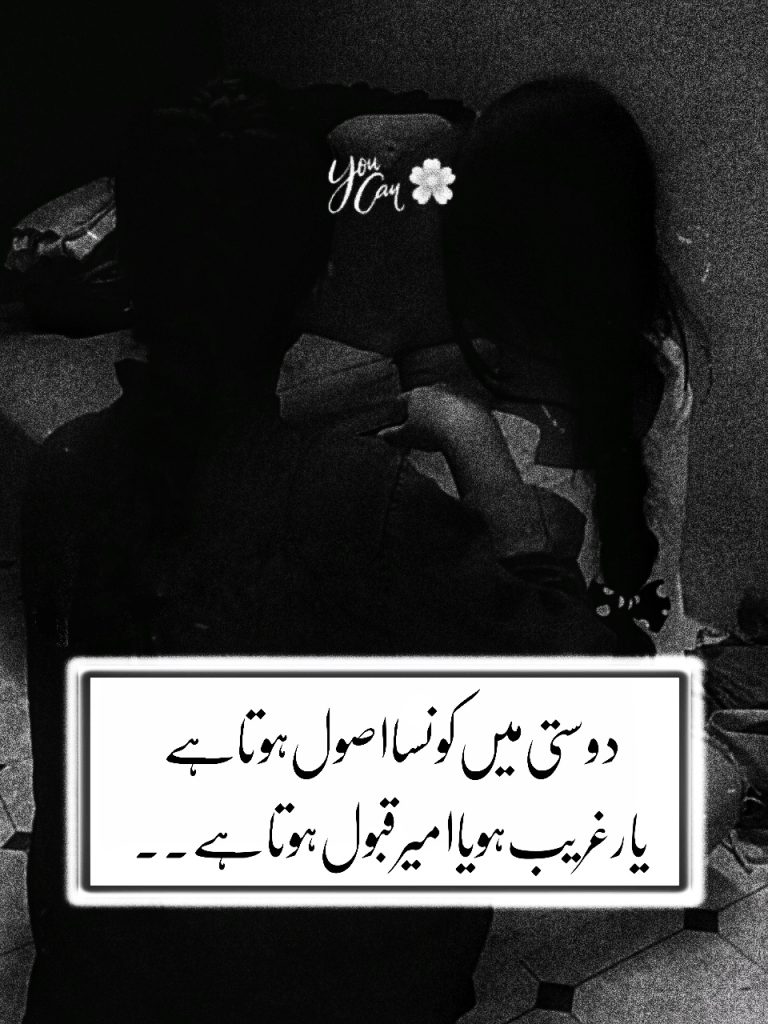 دوستی میں کونسا اصول ہوتا ہے
یار غریب ہو یا امیر قبول ہوتا ہے..
ــــــــــ***ــــــــــ
Doste main konsa rule hota hai
Yar gareeb ho ya amer qubool hota hai
وہ کوئی دوست تھا اچھے دنوں کا"
"جو پچھلی رات سے یاد آ رہا ہے
ــــــــــ***ــــــــــ
He was a good friend
Which I have been remembering since last night
یہاں قدم قدم پر نئے فنکار ملتے ہیں
لیکن قسمت والوں کو سچے یار ملتے ہیں
ــــــــــ***ــــــــــ
yahan qadam qadam per naey fankaar milty hain
lekin qismat walon ko sachay yar milty hai
دوستوں کو بھی ملے درد کی دولت یا رب❤️❤️
میرا اپنا ہی بھلا ہو مجھے منظور نہیں
ــــــــــ***ــــــــــ
dostoon ko bhi milay darad ki dolaat ya raab
mera apna hi bhala ho mujay manzoor hai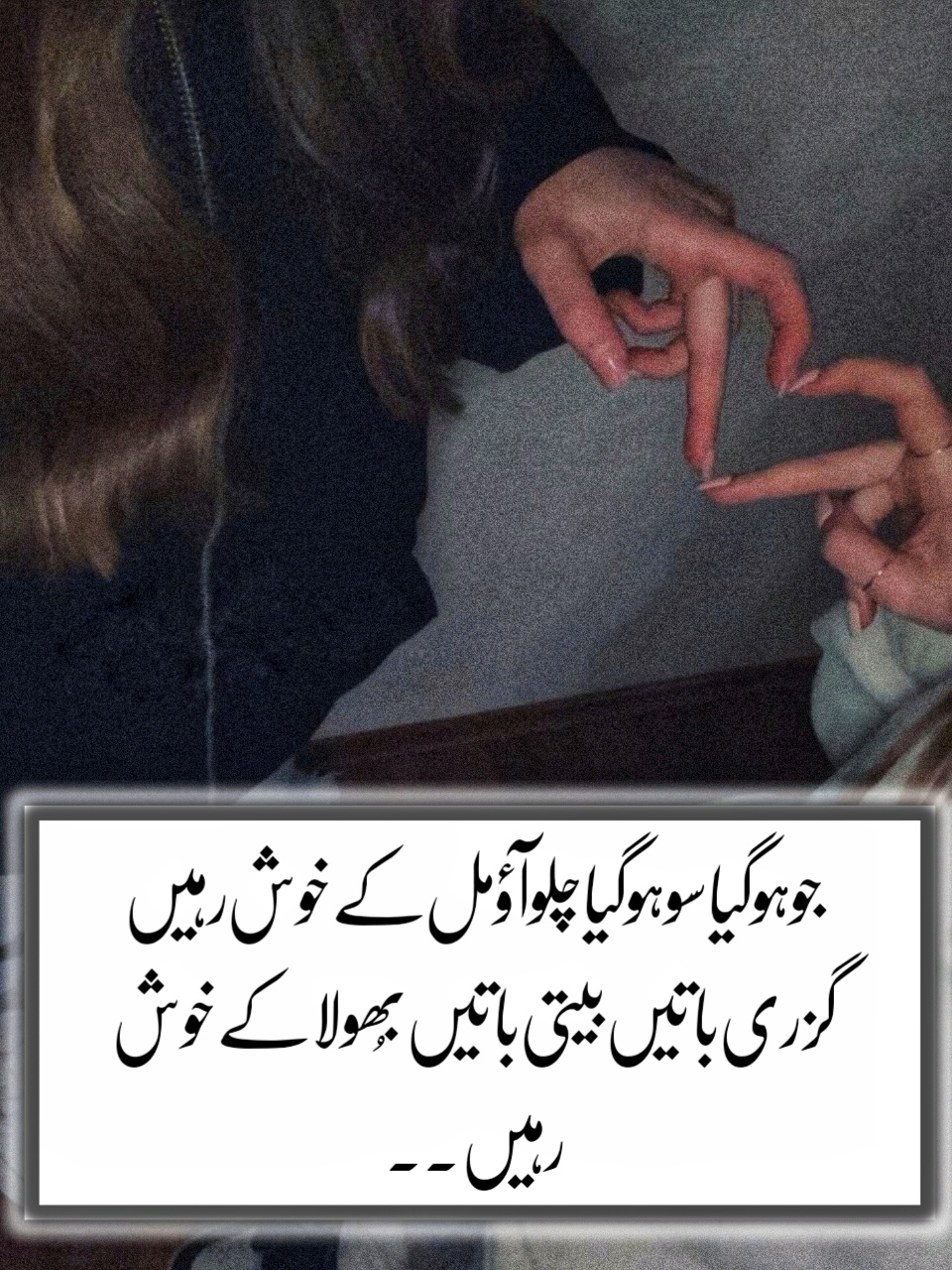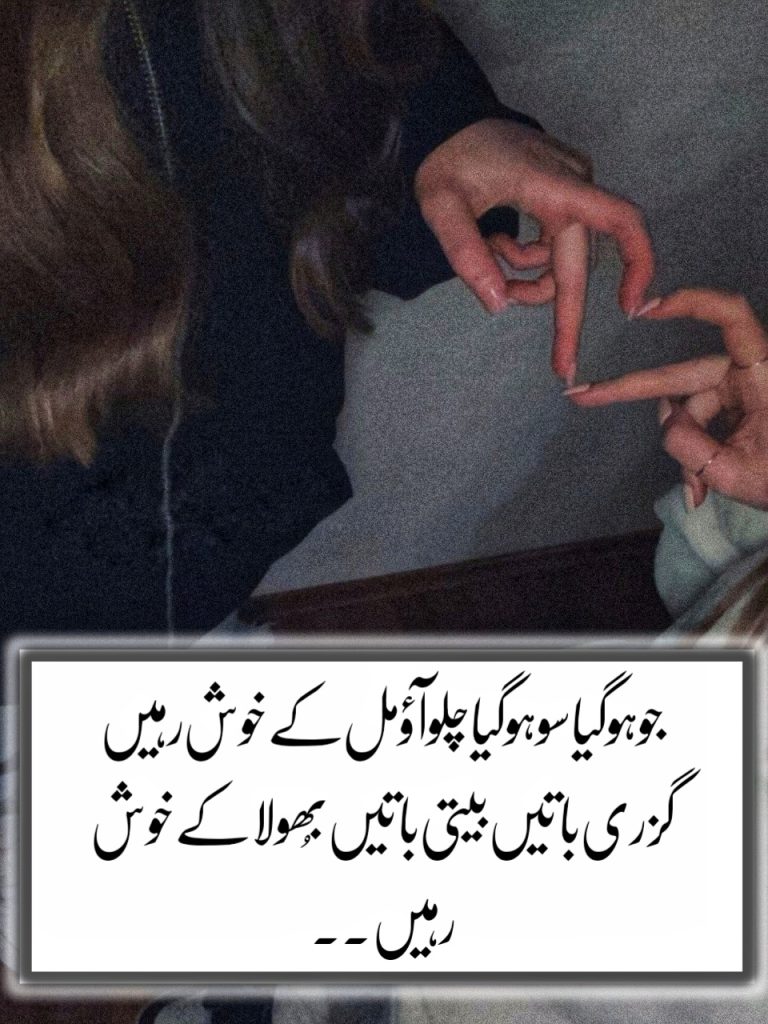 جو ہو گیا سو ہو گیا چلو آؤ مل کے خوش رہیں
گزری باتیں بیتی باتیں بُھولا کے خوش رہیں..
ــــــــــ***ــــــــــ
Jo ho geya su ho geya chalo aao mil ky khush rahey
guzri baatein betein baatein bhula kay khush rahey